I put a clip at the end of every show to remind people that this is all real stuff. I am this kid, my mom is an unreasonable smother and my dad yelled at me all day long in his tighty whities.
-Adam F. Goldberg,
Dinosaur Dracula
, January 9, 2014
Questioning the Story:
Where did the real Goldberg family live?
If you've watched The Goldbergs TV show, you've likely noticed a lot of Philadelphia memorabilia, including Flyers shirts, etc. In researching the true story, we discovered that, like on the show, the real Goldbergs lived in Jenkintown, Pennsylvania, a suburban borough located about ten miles north of downtown Philadelphia. During the episode "Kara-te," Barry even wears a Jenkintown t-shirt that reads, "Jenkintown Karate Studios".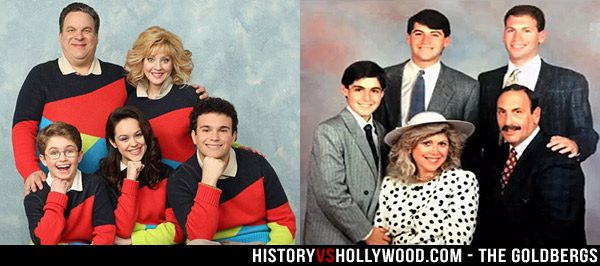 The real Goldberg family (right), including (clockwise from left) Adam, Barry, Eric, Murray and Beverly. Adam's oldest brother, Eric, was changed to Erica for the TV show (left).
Why is The Goldbergs set in "1980-something" instead of a specific year?
At the beginning of nearly every episode of The Goldbergs, the TV show's narrator (Patton Oswalt) reminds us that the current episode takes place in "1980-something." As Vulture.com points out in their interview with the real Adam Goldberg, this ambiguity with regard to time finds the characters discussing Poltergeist, released in 1982, at the same time the brother, Barry (Troy Gentile), is super-excited about the Reebok Pump, which was invented in the late-eighties. The main reason for the mildly confusing (though often easy to overlook) issue with the show's time frame is that if the show was set in a specific year, like 1985 for example, the creators would have to wait up to five years (five seasons) to include references to certain '80s staples like Say Anything (1989), the Reebok Pump and the Nintendo Power Glove.

"I should be so lucky to be five years in on a show," says the real Adam Goldberg. "And for now I only have twelve episodes. He added that for most of us, when we recall our memories of the 1980s, we usually don't remember the exact year anyway. "When I think, When did I win Legend of Zelda? I don't remember what year it was. I only remember that it was somewhere in the mid to late eighties. ... So we decided to set it in '1980-something.'" This idea of having an undependable narrator was "so liberating creatively. We could do anything ... It's kind of a melting pot of the eighties. It's how you remember it."
Has the show slipped up with regard to historical accuracy?
Yes. Although the show overlooks certain 1980s time frame issues, it has included some post-eighties elements in its story lines. "I know I've slipped up a couple times," admits the real Goldberg. Near the end of the premiere episode, "The Circle of Driving," non-1980s cars can be seen in the background as Murray (Jeff Garlin) sings REO Speedwagon's "Can't Fight This Feeling." In another instance, they used the term "re-gift," which wasn't said until after the 1980s (Vulture.com).
Did Adam's dad really walk around the house in his underwear?
Yes. Not only has Adam confirmed this is true, his close childhood friend, Chad Kremp (portrayed in the episode "The Kremps"), who lived across the street, remembers seeing Adam's dad Murray walking around their house in his underwear and a t-shirt. -MontgomeryNews.com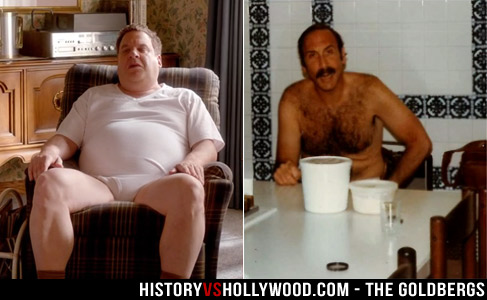 The real Murray Goldberg (right) liked to relax in his underwear at home just like actor Jeff Garlin (left) on the show.
Did Adam's real-life family yell a lot?
Yes. In fact, in an effort not to dissuade viewers, creator Adam Goldberg toned down the yelling for the show. "In my family, all we did was yell," says Adam. "...if I really showed what my mom was like, no one would watch the show. ... This is a Disney version for America." (Vulture.com) Adam says that he had "a dad that could scream and call you a moron and it wasn't a big deal." "Of course, I would never, ever say that to my kids now," confesses Adam. "I think it would shatter them to their core." (Salon.com).


Is the sister on the show, Erica Goldberg (Hayley Orrantia), based on a real person?
Yes, but in real life, Erica is actually Eric, Adam Goldberg's oldest brother. The Goldbergs true story reveals that he did not have any sisters. "I saw more stories coming out of having a daughter in the mix," Goldberg reasons. "I really took all of Eric's characteristics" and sculpted them onto a teenage girl's personality. What does Adam's real-life brother think of this gender change? "He was disappointed at first, but he has complete deniability of his character now." -JewishExponent.com
Why was Adam obsessed with videotaping and what brand of camera did he use?
Adam says that he used a "huge, clunky RCA camera," which is the same brand young Adam (Sean Giambrone) uses on the TV show (Nerdist.com). See the photo below. "I definitely liked being an observer," says Adam of his obsession with videotaping. "I think when you're the youngest, overlooked child, that's what you are a lot of times. ... My siblings were so much older than me that they didn't want anything to do with me, they were kind of ignoring me." -The Goldbergs: Meet the Family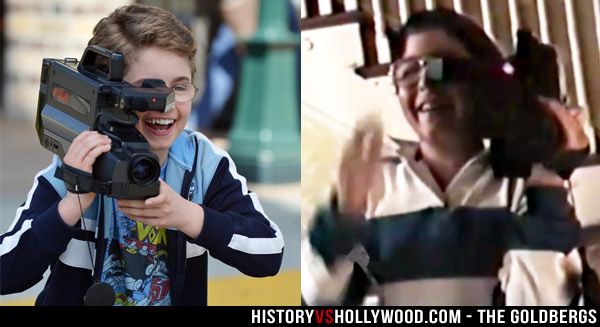 Actor Sean Giambrone (left) with an RCA video camera on the show and the real Adam Goldberg (right) with his video camera in the 1980s.
Did Adam's grandfather (Pops) really crash his Trans-Am into a burger joint?
Yes. Adam recalls that his father, Murray, had to pay for the damage caused by Pops's accident, "which really pissed him off," notes Goldberg. At a press conference, a journalist was critical of the scene, implying that it was somewhat ageist. "It's hard to argue about the veracity of the show when it's all true," says Goldberg. The incident is depicted in the season one episode, "The Circle of Driving." -JewishJournal.com
Did his grandfather have Alzheimer's?
Yes. Though it's not focused on heavily on the show, Adam's grandfather (Pops), portrayed by George Segal, displays mild symptoms of what could possibly be the beginnings of Alzheimer's. In the episode "The Circle of Driving," after Pops crashes the car into the burger joint, Beverly (Wendi McLendon-Covey) tells him, "Dad, your mind is not what it used to be." In high school, the real Adam wrote the play Dr. Pickup, which was inspired by his grandfather's battle with the disease. It won him the 1992 Philadelphia Young Playwrights competition. He was only fifteen at the time. -Philly.com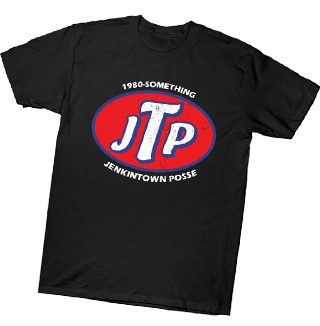 Buy the Jenkintown Posse T-Shirt
and be a part of Barry Goldberg's crew.
Did Adam's mom really dress him in a train sweater?
Yes. In discussing the show, Adam confirmed that his "crazy mom" did dress him in a train sweater. In the season one episode "Daddy Daughter Day," Beverly (Wendi McLendon-Covey) buys her son Adam (Sean Giambrone) a train sweater as part of his new school wardrobe. Adam rebels by going shopping for a more hip wardrobe with Pops (George Segal). -Vulture.com
Did Murray Goldberg really own a furniture business?
Not exactly. On The Goldbergs TV show, the dad, Murray (Jeff Garlin), runs a discount furniture business. He had taken over the operation of the business when his father-in-law, Albert 'Pops' Solomon (George Segal), retired. This is where the show deviates somewhat from the true story. In real life, Murray's dad (not his father-in-law) owned a furniture store called "Goldbergs" and Murray worked there until college. Instead of taking over the business like on the show, the real Murray Goldberg went on to become a doctor.

In fact, the real Adam came from a family of doctors. His grandfather on his mother's side (the basis for Pops) was a Russian immigrant who was the first Jew to graduate from the University of Kentucky Medical School. He went on to become a psychologist. As stated, Adam's father Murray, who passed away in 2008, was also a doctor, and his two brothers, Eric (Erica's real-life counterpart) and Barry, both grew up to become doctors (Eric specializes in neurology and sleep medicine, and Barry is a radiologist). In addition, Adam's wife, who he met when he was 16 at a summer theater program for high school students at Northwestern University, is a therapist (Philly.com).
Is the house on the show similar to the house that the real Adam grew up in?
Not exactly. Based on his videotapes, the production crew was able to recreate many of the interiors of his former Jenkintown, Pennsylvania home on a Sony Studios soundstage. However, the real Adam Goldberg did not grow up in an average suburban home as depicted on the show. He grew up in a large historic Tudor home that was built in 1925 and consisted of 6 bedrooms, 5.5 baths, a mahogany library, a hand carved chestnut staircase and a private tennis/sport court. Located in a prestigious neighborhood, its current estimated value is approximately $669,182 (Zillow.com). As for the home's interior, it was much more grandiose than what is seen on the show, which attempts to depict an average middle-class family.



The Goldbergs' real house (right) was actually a large Tudor in an upper-class neighborhood. A smaller, average middle-class home is seen on the show (left).
In addition to the interior, Adam's videotapes were also used to help create the cast's wardrobe, to the point that the characters look eerily similar to how his family dressed in the 1980s, especially the father (
JewishExponent.com
). The real Beverly Goldberg gave her onscreen counterpart, actress Wendi McLendon-Covey, a box of her old sweaters from the 1980s, which Wendi wears on the TV show (
The Ellen DeGeneres Show
).
Did Adam Goldberg really dress up as a Rubik's Cube for Halloween?
Yes. "Two years in a row! Totally true!!!" says the real Adam Goldberg. The Rubik's Cube costume is depicted in The Goldbergs Halloween episode "Who Are You Going to Telephone?" which finds Adam (Sean Giambrone) ditching Pops (George Segal) to go trick-or-treating with his "cool" new friend.
Are the Goldbergs' uptight neighbors across the street, the Kremps, based on a real family?
Yes. On the show, Beverly Goldberg (Wendi McLendon-Covey) is determined to make friends with her uptight and standoffish neighbors, the Kremps, specifically the mother, Virginia Kremp (Jennifer Irwin). She invites the Kremps over for a BBQ and the situation implodes. In real life, the families were indeed opposites. "We were your everyday family," says the real Chad Kremp, whose parents, like on the show, had purchased the house across the street. "There were four boys, and we all got along and did things together. There wasn't the bullying and the picking on each other like they did across the street. That was an eye-opening experience. The [brothers] punched each other — we weren't used to seeing that."


Left: Chad Kremp (Jacob Hopkins) and Adam Goldberg (Sean Giambrone) become friends on the show. Right: Best friends Chad Kremp and Adam Goldberg in the 1980s.
Chad's older brother Drew remembers the people that his mother had purchased the house from telling her, "...this is such a great neighborhood, except for the Goldbergs — they're kinda crazy. [As] it turned out, they ended up being our best friends." Chad and Adam were always at each other's houses. In fact, Chad sent Adam around forty VHS tapes of footage from their days spent making home movies together with their camcorders. Adam used Chad's tapes along with his own to come up with ideas for the show.
Like on the show, the Kremps owned a local florist shop,
Kremp Florist
, in Willow Grove. Chad grew up to run the business with his family, currently holding the title of Vice-President Sales. The real Chad Kremp has a cameo in "The Kremps" episode. He appears near the end of the episode in a deli scene where he portrays an employee who is yelled at by the actress playing his mother (
MontgomeryNews.com
).
Read Chad Kremp's article about growing up with Adam
.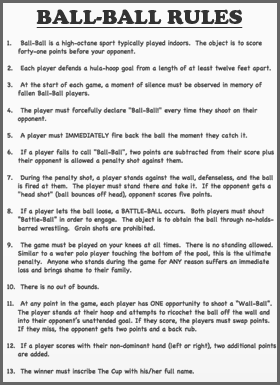 Click to Enlarge
The rules for learning how to play Ball-Ball, provided by the real Adam Goldberg.
Is Ball-Ball a real game?
"Yes, it's real," says Adam, "and yes, there were many rules. Some even involve back rubs." During The Goldbergs season one Thanksgiving episode "Stop Arguing And Start Thanking," Adam and his brother play an indoor game that they made up called Ball-Ball. In a post on the official Goldbergs TV show Facebook page, Adam F. Goldberg shared the rules of Ball-Ball, which we've re-posted (click image to enlarge the rules).
How accurate is Adam's bedroom on the show?
In addition to many of the toys, "All of the posters on the show were posters I had in my room as a kid," says Adam, "except for Time Bandits and Revenge of the Jedi. I always wanted those and could never find then. Sue me. It's wish fulfillment." In exploring The Goldbergs true story, we learned that Adam also had the Star Wars bed sheets and a Black Hole sleeping bag. -Dinosaur Dracula
Did the real Adam Goldberg own all the toys seen on the show, including the 7'6" G.I. Joe U.S.S. Flagg Aircraft Carrier?
"YES — in a sense," writes Adam in a reply to Dinosaur Dracula's article about the toys seen in the episode "You're Under Foot." Adam states, "My best friend Chad Kremp who lived across the street (seen in the episode The Kremps) owned Flagg and almost every Joe. And my house was his house and vice versa (we all had a friend like this growing up) so I constantly had his toys. Did I OWN Flagg? No. Did I play with it like it was mine? Yes. So I bought no G.I. Joes cause Chad had that covered. My jam was Transformers, Go-Bots, Thundercats, He-Man, M.A.S.K., Star Wars and my favorite — Godaikins (especially Go Lion i.e. Voltron)." Adam states that he also owned Jetfire (Transformers) but sold it along with his Godaikins to help pay for his wedding.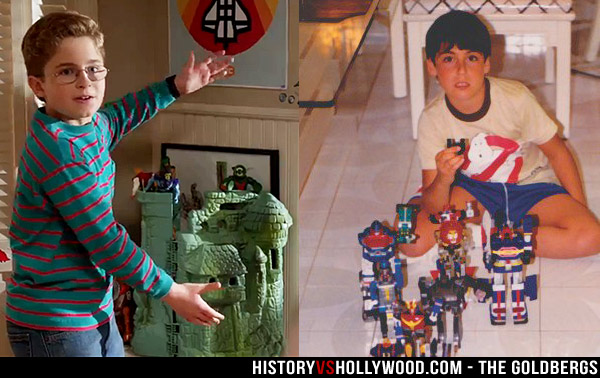 Actor Sean Giambrone (left) with Castle Grayskull on the TV show. The real Adam Goldberg (right) poses with his toys (Godaikins) in the 1980s.
Adam admits that he only had a few He-Man figures and that unlike what is seen on the TV show, he never owned Castle Grayskull (pictured). However, many of the toys seen on the show are actually from Adam's personal collection. This includes the Garbage Pail Kids.
-Dinosaur Dracula
Is Adam's crush on the show, Dana Caldwell, based on a real girl?
Yes. "She is real!" says Adam, though he admits that he never gave the Caldwell girl's brother his toys like his character does in the season one episode "You're Under Foot." The episode depicts Adam (Sean Giambrone) giving away his toys as a gesture of manlihood in hopes that it will help score him his first kiss. -Dinosaur Dracula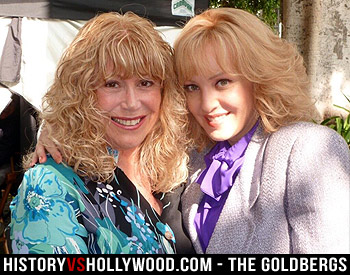 The two smothers. The real Beverly Goldberg (left) at age 70 in 2013 and her TV counterpart, Wendi McLendon-Covey.
Was Adam's mom Beverly really a "smother"?
Yes. On the show, Adam's mom Beverly (Wendi McLendon-Covey) is labeled a "smother." In other words, she is a mother who can't help but smother her children, to an absurd extent. In fact, an entire episode is dedicated to her smothering, titled "The Other Smother," during which Beverly does battle with another mother who smothers (say that three times fast). In addition to what's seen on the show, the real Adam offered another extreme example of his real-life mother's smothering, saying that she "was so unable to part with [him] that she slept over in his dorm room the first weekend he was at college." -The Goldbergs Official Facebook Page
Is "The Goldbergs" Adam's original title for the show?
No. The true story reveals that Adam's original title for the show was "How the F*** Am I Normal," but ABC execs vetoed it. However, it was the title that Adam used when he pitched the show to ABC. -TheJewishWeek.com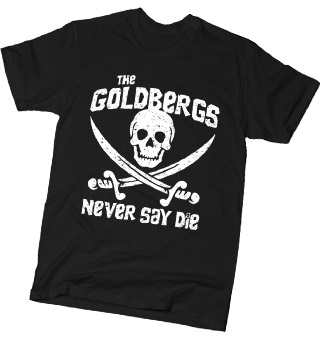 Buy The Goldbergs Never Say Die T-Shirt
. Like on the TV show, the real-life Adam F. Goldberg was obsessed with
The Goonies
movie and still is today.
Was Adam really a fan of The Goonies?
Yes. "The Goonies is my favorite movie of all time," Goldberg told TVGuide.com. "It's the reason I'm a writer. I've seen it a billion times. I would reenact it. I wrote Goonies scripts as a kid. I collect props and memorabilia." He pays tribute to The Goonies with the episode "Goldbergs Never Say Die," during which Adam (Sean Giambrone) finds a treasure map in the attic, sparking him to embark on a Goonies-like adventure with his siblings. The episode is not meant to be based on real life. Instead, it is meant to mirror the film and be a homage. Goldberg admits that the episode was never part of his show pitch to ABC.

Adam Goldberg is such a huge fan of The Goonies that he developed a pitch for a sequel and a 20-page pitch for a Goonies musical. Doing so got him a meeting with Goonies director Richard Donner, one of Goldberg's idols. He calls it the "greatest meeting and moment of my life and career." -TVGuide.com
Did Adam really re-create Tron in his basement?
Yes. "...I did that," Adam F. Goldberg confirms. -Vulture.com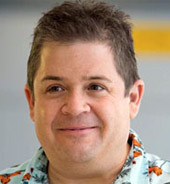 Comedian Patton Oswalt is
The Goldbergs
narrator.
Who narrates The Goldbergs TV show?
The Goldbergs narrator is comedian/actor Patton Oswalt, who delivers a Wonder Years-esque voice-over on the show, portraying a grown up Adam (Sean Giambrone) recalling memories of his crazy 1980s family. This ode to The Wonder Years was no accident, as it is the real Adam Goldberg's "favorite show of all time." Patton Oswalt has starred in a number of television shows and films, including as Constable Bob Sweeney on the FX TV series Justified. Other actors who were interested in doing the voice-over include Tobey Maguire. -HollywoodReporter.com
How does Adam Goldberg's real-life family feel about the show?
In 2007, when The Goldberg's producer, Doug Robinson, first suggested that Adam turn his childhood into a sitcom, the Hollywood TV writer was a bit reluctant. "I thought that they would kill me," he said of his family. "And that people would run screaming from their TVs." He changed his mind a year later following the death of his father, Murray, and the birth of his first child. He realized that his parents had raised him and his brothers (pictured below) with love and had done the best they could. And in the end, his mother couldn't be happier with the show, "My mom thinks it's validated everything she's ever done." (JewishJournal.com) According to Adam, his brother, the real Barry Goldberg (pictured center, below), wants to make it clear that "he does not run like a tool," referring to the humorously awkward way that Barry (Troy Gentile) runs on the TV show. Other than that, the real Barry is a fan.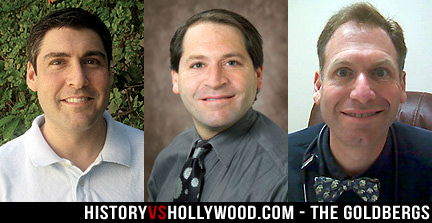 Adam F. Goldberg (left) with brothers Barry Goldberg (center) and Eric Goldberg (right) as adults. Eric was changed to Erica for the show.
The Goldbergs Trailer & Related Videos
In addition to The Goldbergs true story information above, below you can view a preview for The Goldbergs TV series on ABC, which is based on Adam F. Goldberg's videotapes that he made as a kid during the 1980s. Also, check out several 1980s commercials for products that are featured prominently on the show.
WATCH

G.I. Joe USS Flagg Aircraft Carrier Commercial (1986)
If you were a fan of G.I. Joe in the mid-1980s, then you will certainly recognize the iconic toy in this G.I. Joe aircraft carrier commercial. The USS Flagg appears in The Goldbergs season one episode "You're Under Foot." Adam (Sean Giambrone) shows his toys, including the Flagg, to his crush, Dana Caldwell (Natalie Alyn Lind). At 7'6", the aircraft carrier is the largest G.I. Joe play set to date.

WATCH

Reebok Pump Banned Bungee Jump Commercial
In early 1990, this Reebok Pump Bungee Jump Commercial was banned by several major networks and eventually pulled by Reebok after complaints from parents over the dangers of bungee jumping. On The Goldbergs TV show, Barry (Troy Gentile) becomes very excited about the Reebok Pump shoes during the episode "Mini Murray," leading him to attempt a dunk in front of his family that doesn't go as planned.

WATCH

The Goldbergs Trailer
Watch the trailer for the ABC TV show The Goldbergs. Highlights from season one are shown, including an introduction to the characters, how they interact as a family and scenes from the premiere episode, "The Circle of Driving."

Link-to-Learn More: