The obsession with celebrity — which so many of us suffer from — is what makes the Bling Ring so relevant almost 5 years after the initial robbery took place. I believe that a large majority of our society is just as sick as us teens were. We are all obsessed, I believe, because we want an inside look into the real life of these celebrities, and we enjoy publicly scrutinizing people because they "sin" differently than we do.
- Alexis Neiers (via her blog, April 5, 2013)
Questioning the Story:
How does the real Nicki, Alexis Neiers, feel about The Bling Ring movie?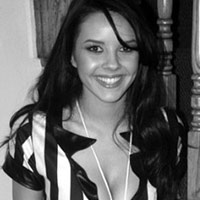 The real life Nicki, Alexis Neiers, has described the film as "trashy and inaccurate."
Alexis Neiers, the real Hollywood Hills Burglar Bunch member behind Emma Watson's movie character, at first conveyed cautious optimism regarding the movie via an April 2013 blog post, "When I found out last March that Sofia Coppola was making a movie about the Bling Ring, at first I was shocked, and then I became optimistic after I heard what her intentions for the film were. I can only hope that this movie does not just tell the story of Los Angeles teens robbing the homes of celebrities, because that, I don't believe, would have much impact on people, as the real cultural obsession with what the Bling Ring would. In my opinion, as a society, we are so focused on which celebrity is doing what, and we have gotten distracted. It has led to teens literally killing themselves, and to a complete erosion of privacy and boundaries. ... I am still hoping that this movie will accurately show what I have described above, and I have faith in Sofia's ability to tell this story."
After later viewing
The Bling Ring
movie trailer, Alexis Neiers quickly became very skeptical and critical of Sofia Coppola's film, calling it "trashy and inaccurate" while responding to a Twitter post. She further tweeted, "The truth will come out soon enough and I have no intention of seeing this film."
When did the Hollywood Hills burglaries actually take place?
The Bling Ring true story reveals that the robberies spanned approximately ten months, beginning in October of 2008 and ending in August of 2009. -Vanity Fair
What did they steal and how much was it worth?
The real Bling Ring stole high-end handbags, jewelry (including Rolexes), designer clothes, shoes, perfume, makeup, art and underwear, among other things. Their nine month haul totaled more than $3 million. See the list of celebrities below for more details on each burglary and the items that were taken. -Good Morning America
Did the Bling Ring really rob Paris Hilton and the other celebrities in the movie?
Yes, the real people behind The Bling Ring movie robbed the homes of Paris Hilton; Lindsay Lohan; Orlando Bloom and Miranda Kerr; Brian Austin Green and Megan Fox; Rachel Bilson; and Audrina Patridge.


Below we list each celebrity, the various items that were stolen, and the total value of the items that were taken, when available:


Paris Hilton: Nick Prugo and Rachel Lee first robbed hotel heiress Paris Hilton's home in October 2008. They entered the home after finding a key under the mat. They took few enough items so that the robbery would go unnoticed. This strategy allowed them to return four more times, with Paris Hilton finally reporting a burglary on December 19, 2008 after an accomplice, Roy Lopez, stole nearly $2 million worth of her jewelry. Other items the Bling Ring stole from Paris Hilton include Birkin bags, heirloom jewelry, expensive bras, a designer dress and topless photos of the heiress that were snatched out of an open safe. Nick Prugo told author Nancy Jo Sales that they also snorted cocaine they found in Paris's house, a claim that Dawn Miller, a rep for Hilton, denies.
Lindsay Lohan: On the night of August 23, 2009, Nick Prugo, Rachel Lee and Diana Tamayo allegedly robbed Lindsay Lohan's Spanish-style home in the Hollywood Hills. They made off with nearly $130,000 in jewelry and clothes. Prugo says that Lindsay was Rachel Lee's fashion icon. Police recovered a coat believed to be Lohan's at Rachel Lee's father's home. A Chanel necklace belonging to Lohan was also recovered by police at the home of Alexis Neiers's.
Orlando Bloom: On July 13, 2009, the Hollywood Hills Burglar Bunch, including Alexis Neiers, Rachel Lee, Nick Prugo and Diana Tamayo, cut a hole in the chain-link fence surrounding Bloom's property and entered his house through an unlocked door near the pool. They stole roughly $500,000 in clothing, Louis Vuitton luggage, Rolex watches and artwork. When Nick Prugo was arrested he was wearing Orlando Bloom's black and white striped shirt (see mugshot above).
Miranda Kerr: Victoria Secret model Miranda Kerr was living with then boyfriend Orlando Bloom (they later married) at the time of the July 13, 2009 break-in. Some of the $500,000 worth of items that were taken from his mansion belonged to her. Nick Prugo is quoted in Nancy Jo Sales article as saying that fellow Bling Ringer Rachel Lee "wanted Victoria's Secret model clothes" and that Alexis Neiers took a one-of-a-kind runway style dress by Alex Perry.
Brian Austin Green: In addition to their normal items, in August 2009 the Bling Ring stole the former Beverly Hills 90210 star's Sig Sauer .380 semi-automatic handgun. However, they were really after property belonging to his then live-in girlfriend Megan Fox (they later married).
Megan Fox: In the Nancy Jo Sales Vanity Fair article, Nick Prugo said that his accomplice Rachel Lee wanted to rob Transformers star Megan Fox because Lee liked her wardrobe. Fox was living at the home of her boyfriend, actor Brian Austin Green, at the time.
Rachel Bilson: Nick Prugo and Rachel Lee were two of the teens involved in burglarizing the home of former O.C. star Rachel Bilson on May 9, 2009. Prugo says that Lee was so comfortable that she took time to move her bowels in Bilson's bathroom. Among the items stolen from Bilson was a Marc Jacobs handbag, which ended up being recovered by police at Alexis Neiers's home while the taping of an episode of her reality show Pretty Wild was under way. According to the L.A.P.D., during April and May of 2009, the Bling Ring collectively burglarized Rachel Bilson's home a total of six times, taking almost $130,000 worth of property that included clothing, handbags, makeup and jewelry.
Audrina Patridge: A male and a female resembling Nick Prugo and Rachel Lee were caught on surveillance cameras entering Patridge's home on Oscar night, February 22, 2009. They stole an estimated $43,000 worth of property, including Audrina's great-grandma's jewelry, her laptop, her passport and custom made jeans. "Rachel Lee was a big fan of me," Patridge says, having been told by the police. "She's a little obsessed girl, I gotta tell you. She's going to get what she deserves."



Did the Bling Ring target any other celebrities?
Yes. It has been said that the real Bling Ring attempted to rob High School Musical star Ashley Tisdale but were scared off after they were spotted by a female houseguest. Nick Prugo stated that certain members of the Hollywood Hills Burglar Bunch also cased the homes of Disney stars Zac Efron, Miley Cyrus, Vanessa Hudgens and Hilary Duff. -Vanity Fair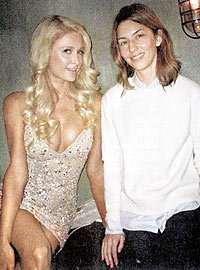 Paris Hilton and director Sofia Coppola on the set of
The Bling Ring
movie in 2012.
How did they decide who they wanted to rob and when to do it?
The fame and fashion obsessed teens used the internet, including Google, TMZ and celebrity Twitter accounts, to learn when the stars would be home. They also used Google Earth to study aerial photos of the celebrity homes to determine the best points of entry. They picked their victims in part based on who they liked and also on their wardrobes and intelligence. For example, according to Nick Prugo, who was quoted in Nancy Jo Sales's Bling Ring book, they thought that Paris Hilton was "dumb" and when they got to her house they found a key under the mat. They robbed her a total of five times. -Good Morning America
How was the Bling Ring finally caught?
The Bling Ring true story reveals that the teens were identified after several of them were caught on surveillance cameras outside of two celebrity mansions, the home of Audrina Patridge (one of the former stars of MTV's The Hills) and Lindsay Lohan's Spanish-style residence. On August 26, 2009, after seeing that both videos had captured the same people, the L.A.P.D. released Lohan's video to the celebrity gossip website TMZ (Patridge had already posted her home's surveillance video publicly on YouTube). Tips rolled in but police were already acting on information they had obtained from someone who overheard Nick Prugo and Rachel Lee bragging about their exploits at a party.
Did the real Rebecca (Rachel Lee) really ask, "What did Lindsay say?" when she was being interrogated by police?
Yes. This quote was plucked straight from author Nancy Jo Sales Vanity Fair article, which took it straight from the L.A.P.D. report. According to the report, Rachel Lee asked L.A.P.D. Detective Leanne Hoffman if she had spoken to any of the victims. When the detective told Lee that she had talked to all of the victims, Lee grew excited and asked, "What did Lindsay say?"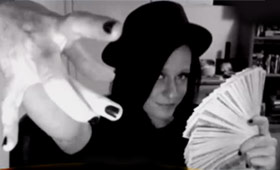 A Bling Ring teenager (believed to be Courtney Ames) flaunts her stolen celebrity cash.
Why did they commit the robberies?
The Bling Ring was a group of troubled teens. They weren't just obsessed with fashion and celebrities as the movie at times implies. Four of the teens, including Nick Prugo, Rachel Lee, Diana Tamayo and Alexis Neiers, attended the Indian Hills alternative high school together after having been kicked out of their former schools. Prugo and Lee began their criminal ways by stealing credit cards and cash from unlocked Mercedeses, Bentleys and other expensive cars in their neighborhood. Prior to moving on to celebrity mansions, Prugo and Lee had robbed the home of a boy that Prugo knew was out of town. -Vanity Fair
Did the real Nicki from The Bling Ring really get her own reality TV show?
Yes, but it wasn't due to her association with the Hollywood Hills Burglar Bunch. The real Nicki, Alexis Neiers, had already been cast to star on the E! Television Network's reality TV show Pretty Wild, which was supposed to chronicle the lives of her and her two sisters, Gabby and Tess (Tess Taylor was not a biological sister but rather a friend of Alexis's that the family took in), as they navigated the Hollywood social scene and attempted to develop their modeling careers. After the pilot had already been filmed in the summer of 2009, Alexis was arrested for her involvement in the burglaries. The plot of the show then deviated to in part follow Alexis's trial. The show only lasted one season.
Did Alexis Neiers really take Adderall like her onscreen counterpart does in the movie?
Yes. In the movie, Nicki's (Emma Watson) mom Laurie (Leslie Mann) calls upstairs to let her daughters know that it's time for their Adderall (a drug used to treat narcolepsy and attention deficit hyperactivity disorder, commonly referred to as ADHD). This moment was inspired by a scene from the Pretty Wild reality TV show where Alexis's mom brags about giving all three of her daughters Adderall each morning for attention deficit problems.

On the show, Alexis's mom also gave her Adderall for "stress" prior to entering court for her preliminary hearing. Via a video posted on her official blog, Alexis admits that her daily use of Adderall was not a good idea. This realization came after she was arrested for possession of a controlled substance (not Adderall) and subsequently went to rehab.
What did Emma Watson do to prepare for her role?
"I watched a lot of reality TV and material with Kim Kardashian and Paris Hilton and some of the girls from The Hills," says Emma, "and gradually put together this picture of who Nicki was and what her psychology was like." -Mirror.co.uk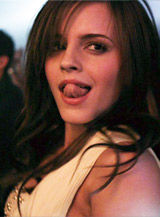 In interviews, actress Emma Watson has distanced herself from her
Bling Ring
character.
"I watched
Pretty Wild
so many times to try and get her into my brain," Emma Watson told
Rookie
magazine. "It gave me anxiety. How do you watch it?"
Did actress Emma Watson talk to Alexis Neiers about the film or the role?
"No," Emma Watson told Rookie magazine, "I haven't. To be fair to Alexis, [my character] is like three steps removed from who she might be in real life. A lot of the material in the movie was based on an article, which was based on a reality show, which we all know isn't real life. I wasn't trying to impersonate her—she just inspired the character."

In a separate interview, Emma Watson told British GQ magazine, "The character is everything that I felt strongly against - she's superficial, materialistic, vain, amoral. She's all of these things and I realized that I hated her. How do you play someone you hate?"
Did Alexis Neiers really say that she wants to "lead a country" like in the movie?
Yes, according to Nancy Jo Sales Vanity Fair article, the real Nicki from The Bling Ring movie, Alexis Neiers, was quoted saying this a week prior to her arraignment. She was at her lawyer's office. "I'm a firm believer in Karma," Alexis said, "and I think this situation was attracted into my life because it was supposed to be a huge learning lesson for me to grow and expand as a spiritual human being. I see myself being like an Angelina Jolie, but even stronger, pushing even harder for the universe and for peace and for the health of our planet. God didn't give me these talents and looks to just sit around being a model or being famous. I want to lead a huge charity organization. I want to lead a country, for all I know."


Is Paris Hilton's real house in The Bling Ring movie?
Yes. Hotel heiress and Hollywood socialite Paris Hilton granted director Sofia Coppola and the filmmakers access inside her sprawling Hollywood mansion to shoot the scenes for the movie. "I saw the pillows adorned with [Paris'] face and I took my picture with them," says director Coppola.

"Those pillows with my face on it were actually a present from my girlfriend for my birthday," remarked Hilton, "and I just thought they were so funny and hilarious." -UsMagazine.com
What does Alexis Neiers think of author Nancy Jo Sales Vanity Fair article on which the movie is based?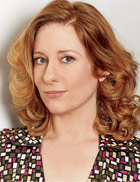 Alexis believes author Nancy Jo Sales (above) is obsessed with fame just like the teens.
After opening up to author Nancy Jo Sales for her
Vanity Fair
article "The Suspects Wore Louboutins," Alexis was outraged when she read the end result in print. The drama played itself out on her reality TV show
Pretty Wild
when she left Nancy Jo Sales several emotionally charged voice-mails (
watch the clip
). In a VICE.com interview, Alexis said the following about Nancy Jo, "...the only reason Nancy Jo is at all relevant—at all—is because I had a f@*king meltdown on my television show. She claims that we're fame-obsessed teens. No, shame on you, Nancy! You have taken the pain you have caused me and you ran with it. Everything that they claim we are, they are. Everybody wants to be famous."
Author Nancy Jo Sales went on to release a book,
The Bling Ring: How a Gang of Fame-Obsessed Teens Ripped Off Hollywood and Shocked the World
, which expands upon her
Vanity Fair
article. The book is available in the column on the right.
Was the detective who helped crack the case really put under investigation for accepting a part in the movie?
Yes. L.A.P.D. Detective Brett Goodkin accepted a job as technical advisor on Sophia Coppola's film. He also plays himself in the movie, slapping a pair of handcuffs on Emma Watson, just like he did to the real Nicki, Alexis Neiers. The problem is that he lied to his boss about working on the movie. It became an issue because Goodkin was still involved in the hearings for the actual Bling Ring robbers. The prosecutors were concerned that Goodkin's financial gain from working on the movie might have conflicted with his testimony at the hearings, prompting the judge to tell several of the suspects in court, "You should all write a thank-you letter to Goodkin, because his judgment is as poor as it gets. You can have a field day with his credibility during trial ... It's a shame what he did. It's harmful to the people's case." -LATimes.com
What was the punishment for each Bling Ring member?
After their capture, the majority of the Bling Ring real people began to snitch on each other in an attempt to get off with a reduced sentence or none at all. Three of them, Courtney Ames, Diana Tamayo and Roy Lopez, Jr., received lighter sentences because detective Brett Goodkin took a job as a consultant to director Sophia Coppola without getting permission from his superiors. This caused a conflict when it came to the credibility of his testimony in the trial. Below we list each member and their punishment:


Alexis Neiers: She pled no contest to felony burglary charges with regard to actor Orlando Bloom's mansion. She served 30 days in jail of an 180-day sentence with three years probation and $600,000 in restitution to Orlando Bloom.
Nick Prugo: When Prugo was captured he disregarded his right to remain silent and opened up to police about crimes they didn't even know he committed. He was sentenced to time served (365 days in jail) for breaking in to the mansions of Lindsay Lohan and Audrina Patridge. -The Daily Beast
Rachel Lee: After pleading no contest, Lee was given the longest sentence of all the Bling Ring members - four years in state prison for robbing Audrina Patridge's home. She was paroled on March 28, 2013 after serving two of the four years.
Courtney Ames: She pled no contest to having been given a jacket stolen from Paris Hilton. However, she made headlines during the trial when she apparently showed up to court wearing a necklace that belonged to Lindsay Lohan. Ames was sentenced to three years probation and given 60 days of community service.
Diana Tamayo: Prior to committing a robbery with the Bling Ring, Diana had already been busted for shoplifting. For her part with the Burglar Bunch, she pled no contest for the residential burglary of Lindsay Lohan. She received three years probation, 60 days of community service and jail time already served. She later told The Daily Beast that she "found God" and started a career with fitness and nutrition. Diana was not represented in the movie.

Portrayed by actor Carlos Miranda (left), the real Roy Lopez, Jr. (right) stole the most (in terms of value).

Roy Lopez, Jr.: He was recruited by Courtney Ames who he worked with at a restaurant in Calabasas. He stole the most (in estimated property value) out of all the Bling Ring members - $2 million of Paris Hilton's jewelry. All of it was returned to Hilton. He was sentenced to three years probation and was awarded time served for the 100 days he had already spent in jail.
Jonathan Ajar, a.k.a. "Jonnie Dangerous": When Roy Lopez, Jr. (above) couldn't successfully fence Paris Hilton's jewelry, they turned to Ajar, who had fenced other goods that the Bling Ring had stolen. Ajar, a then 27-year-old ex-con and cocaine dealer, had dated Courtney Ames which is how he became involved with the teens. Not officially part of the D.A.'s "Bling Ring" case, he was charged separately and pleaded no contest to possession of a firearm by a convicted felon, possession of cocaine with the intent to sell, and a single count of receiving stolen property from the Bling Ring. He was sentenced to three years in prison but was released after serving roughly one year.
Have any other movies been made about the Bling Ring?
Yes. In 2011, Lifetime aired a TV movie also titled The Bling Ring. It stars Austin Butler (from TV's The Carrie Diaries) and Dirty Dancing's Jennifer Grey. It's available to watch via the column on the right.
The Bling Ring Interviews and Related Video
Watch interviews with the Bling Ring real people, including Nick Prugo, and witness Alexis Neiers lash out at author Nancy Jo Sales. View the surveillance video from the homes of Lindsay Lohan and Audrina Patridge, which was used to help identify the suspects. Also, watch the movie trailer for the Sophia Coppola film.
WATCH

Alexis Neiers Lashes Out at Nancy Jo Sales
On the reality TV show Pretty Wild, Alexis Neiers (the real life Nicki from The Bling Ring movie) expresses her outrage over how she is portrayed in Nancy Jo Sales's Vanity Fair article by leaving the author several emotional voicemails.

WATCH

Real Bling Ring Member Nick Prugo Speaks
Former Bling Ring member Nick Prugo (Marc in the Sophia Coppola movie) is interviewed and says, "I'm definitely sorry for what I've done." He claims that peer pressure and the thrill of it is what made him take part in the burglaries. He admits that they started by robbing cars and smaller things before celebrity homes.

WATCH

Audrina Patridge Surveillance Video
This video of Bling Ring members Nick Prugo and Rachel Lee was captured by Audrina Patridge's surveillance cameras on Oscar night, February 22, 2009. Prugo and Lee made off with approximately $43,000 worth of items from Audrina's home.

WATCH

Lindsay Lohan Surveillance Video
View the Lindsay Lohan surveillance video that the L.A.P.D. released on August 26, 2009 so that the public could help to identify the suspects. The video shows three individuals covering their faces with a hat and hoods as they move around near an outside door.

WATCH

The Bling Ring Trailer
Sophia Coppola directs Emma Watson in The Bling Ring, based on the true story of the Hollywood Hills Burglar Bunch, a group of teens who robbed the homes of various Hollywood celebrities, including Paris Hilton, Lindsay Lohan and Orlando Bloom.

Link-to-Learn More: