When I saw it the first time I was impressed. There was no Hollywood changes or things changed a little bit Hollywood-like. It is very accurate. And this really surprised me very positively.
-Niki Lauda (
Carjam TV
Interview, September, 2013)
Questioning the Story:
The real Niki Lauda (right) prior to the accident and his onscreen counterpart, actor Daniel Brühl (left).

Why was Niki Lauda nicknamed "The Rat"?
The Rush movie true story reveals that Lauda was known as "The Rat" for his protruding teeth. Actor Daniel Brühl, who portrays Lauda in the film, had to have prosthetic teeth put in for the role. The real Niki Lauda talked about the origin of the nickname during an interview with the Telegraph, "Marlboro was the sponsor. They put 'The Rat' on my visor," says Lauda. "A marketing guy thought of it because of my teeth." James Hunt would at times use the nickname when speaking to Lauda.
Was Niki Lauda really as serious a driver as the movie depicts?
"I was not as strict as I appeared in the movie," says the real Niki Lauda, "but I was more disciplined than he [James Hunt] was. I would never drink before a race. Certainly after it; I had to. Every race could have been my last." -Telegraph
Was James Hunt's McLaren really disqualified after a race for being too wide?
Yes. In Madrid, Spain on May 2, 1976, James Hunt took the win over Niki Lauda at the Spanish Grand Prix. In researching the Rush true story, we discovered that prior to the race, Lauda had broken two to three ribs when he fell off his tractor in an accident at his home in Austria, leaving his physical condition impaired. In the scrutineering area shortly after the race concluded, James Hunt's car was disqualified after it was found to be 1.8 centimeters too wide. Hunt's points were given to Lauda. McLaren and Hunt appealed the decision, arguing that the difference had not affected the performance of the car, to which Lauda and Ferrari grossly disagreed. McLaren won the appeal and Hunt's points were reinstated. As a joke, Hunt was later filmed polishing a sign on the back of his car that read, "Caution Wide Vehicle".
Top: The real James Hunt poses with model Susan Shaw. Bottom: Actor Chris Hemsworth recreates the pose for the

Rush

movie.

Was James Hunt really a playboy?
"Uhm, define a playboy," Hunt said when asked this question in a 1976 interview. "I don't know. I like playing." The real James Hunt admitted he took advantage of the perks of being a Formula One superstar. He claimed to have slept with more than 5,000 women, often having sex minutes before getting behind the wheel for a race. A photo from 1976 even shows him wearing a patch on his racing uniform that reads, "Sex is a high performance thing". Another photo reveals a different patch that reads, "Sex: Breakfast of Champions", which is also seen in the Rush movie.

Hunt often got roaring drunk, took drugs and once urinated in public at a race, causing the fans to cheer when he finished. It was also not uncommon for him to race hung over.
Did James Hunt really show up at sponsor events in a t-shirt and jeans?
Yes. James had a stipulation written into his contract that he did not have to dress formally for sponsor events. Of course, this upset McLaren and sponsor Marlboro, which were very straight-edged organizations. He once showed up to a dinner party in a black tie and flip-flops.


Did James Hunt really tell an interviewer that "big balls" gave him the advantage?
Yes. The Rush movie true story confirms that this actually happened. In real life, when interviewer Stirling Moss asked James Hunt how he remained so fast after new regulations had forced changes to the air boxes and wings, Hunt answered, "Big balls." Thinking Hunt was joking, the interviewer laughed awkwardly and Hunt asked, "Can't you print that?" "But it's true," Hunt said with a smirk on his face. Watch the Real James Hunt "Big Balls" Interview.
Was Hunt's British Grand Prix win reversed and awarded to Lauda?
Yes. Although it was not addressed in the Rush movie, Hunt's win at the British Grand Prix on July 18, 1976 was eventually given to Lauda. After a crash during the race, James Hunt took a shortcut to the pit via an access road, thereby not completing the course. Rival Ferrari later argued that the rules stated that even if a race was suspended, drivers have to still follow the course before accessing the pit. Ferrari disputed Hunt's victory and a hearing was held two months later, after which Hunt was disqualified and Lauda was awarded the win.
Was Niki Lauda really horribly burnt in a fiery crash?
An injured Niki Lauda (right) faces the public after being on the verge of death. Left: Actor Daniel Brühl in the
Rush
movie.
Yes. On August 1, 1976, while racing in the German Grand Prix on the Nürburgring track in Nürburg, Germany, Niki Lauda lost control of his Ferrari Formula One racecar, which crashed into a wall on a bend, burst into flames, and drifted into the middle of the track where it was hit by another car.
Watch the Real Niki Lauda Crash Video
. His helmet flew off during the crash and Lauda was trapped for nearly a minute in the 800+ degree (Fahrenheit) inferno before several of his fellow racers were able to pull him out. "Another 10 seconds and I would have died," says Lauda. His hands, eyelids and forehead were severely burnt and his scalp and right ear had been charred by the flames. The searing toxic fumes from the burning car had also damaged his lungs and blood. Though he was alert following the crash, he eventually slipped into a coma and was left fighting for his life. At one point, the doctors had given up hope and a priest knelt at his bedside and administered last rites.
"When I came to the hospital. You feel like you are very tired, and you would like to go and sleep," says Lauda, "but you know it's not just go and sleeping. It's something else. And then you just fight with your brain. You hear noises and you hear voices, and you just try to listen to what they are saying and you try to keep your brain working to get the body ready to fight against illness. ... I did that and that way I survived."
"My then wife [Marlene] fainted when she first saw me," says Lauda, "so I knew it could not have been good. As I get older the scars get lost in the lines, and, well," he shrugs, "you just get used to it."
-Telegraph
Did Niki Lauda really call a meeting of his fellow racers over his safety concerns regarding the race at Nürburgring?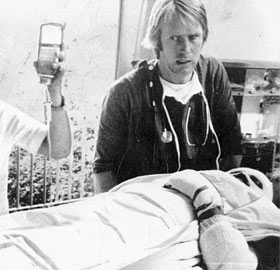 Lauda's doctors had given up hope. The Nürburgring track had already claimed more than 50 lives. It never held another Formula One race.

Yes. As the safety spokesperson for the drivers, the real Niki Lauda called a meeting of his fellow racers in an attempt to have the race at

Nürburgring stopped, but many of his fellow drivers didn't agree. In the end, he lost by one vote and was left with little choice but to race. It would be the last Formula One race ever run on that track at

Nürburgring, but for Lauda, it was one race too many on a track that had already claimed more than fifty lives.
What caused Niki Lauda's crash at Nürburgring?
Niki Lauda does not have any memory of the crash and the moments directly before it, so there is only speculation as to what exactly caused the fiery crash. It had been raining prior to the race but then it stopped, leaving only parts of the track wet. After the first lap, most of the drivers, including Niki Lauda, pitted to change back to slicks (dry tires) which enabled them to go faster. Though it is suspected that there might have been a rear suspension failure, which is depicted in the Rush movie, footage of the crash shows Lauda's car fishtailing as he loses control and veers into the wall, which could have also been the result of a damp spot on the track where he entered the bend.
Was there ever a moment after the accident that Lauda considered retiring?
"No," says Lauda, "not one moment, because I knew how things go, I knew about the risks. They questioned me, did I want to continue? But I always thought, yes, I do. I wanted to see if I could make a comeback. I was not surprised to have an accident. All these years I saw people getting killed right in front of me." Lauda, having already won the World Championship in 1975, would go on to be the Formula One World Champion the following season in 1977 and then again in 1984. -Telegraph
Did Niki Lauda's wife want him to retire after the accident?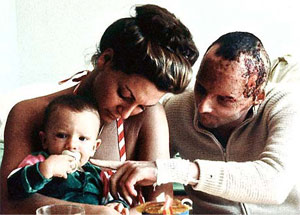 Niki Lauda with wife Marlene and their son shortly after the near fatal crash in 1976.
"No," said Marlene Lauda, answering this question in an interview prior to Niki's comeback race. "It would have been wrong to take advantage of the accident to make him stop. It's up to him. I can't stop him racing." Niki and Marlene, a model, had only been married since March of 1976.
How long did it take for Niki Lauda to start racing again after his crash?
Niki Lauda returned to Formula One racing just six weeks after his near fatal August 1, 1976 crash, missing only two races. In his first race back, he finished fourth in the Italian Grand Prix on September 12, 1976. His rival James Hunt retired from the race after spinning out. Hunt was trying to catch up after he had been forced to start in the rear when officials discovered that the fuel in his car had a higher octane level than allowed.
Was the movie reenactment of Niki Lauda's crash filmed where it actually happened?
Yes. During our investigation into the Rush movie true story, we confirmed that director Ron Howard and the filmmakers did in fact film the fiery crash on the same bend of the old track at the Nürburgring motorsports complex in Nürburg, Germany. See Ron Howard at the Nürburgring movie location in the video "Recreating Niki Lauda's Crash at Nürburgring for Rush".


Had James Hunt and Niki Lauda been friends prior to the accident?
Yes. In the Rush movie, Lauda and Hunt are portrayed as extreme rivals who eventually become friends out of mutual respect for each other. In real life, James Hunt and Niki Lauda had been friends prior to the accident. "Yes, we were friends," says Lauda. "I knew him before we met at Formula One [at Formula Three]. We always crossed each other's lines. He was a very competitive guy and he was very quick. In many ways we were the same. I had a lot of respect for him on the circuit. ... He was a very solid driver." Proficient in English, Lauda often spent time visiting with Hunt in the McLaren pit.

"He died too early, too young," says Lauda. "I wish he'd been here to see the movie. It would have been the best." -Telegraph
I heard that Russell Crowe almost had a cameo in the movie?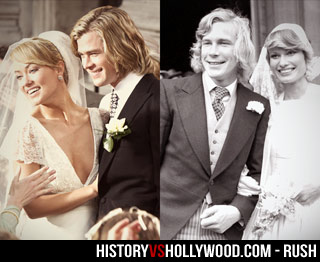 Prior to the wedding, James Hunt had told friends that he didn't want to marry Suzy Miller. He was drunk through the entire ceremony. Right: Real James & Suzy.
This is true. Director Ron Howard intended to recruit his friend Russell Crowe to portray Richard Burton in the movie for a scene that was never shot, where Burton confronts James Hunt (Chris Hemsworth). In real life, British movie star Richard Burton divorced Elizabeth Taylor for the second time on August 1, 1976, the day of Niki Lauda's near fatal crash. 20 days later Burton married Suzy Miller, who had recently divorced James Hunt.
In real life, Hunt told friends that his engagement to Suzy Miller was a mistake from the beginning and that he didn't know what he was doing, but he felt that it was too late to get out of it. Unable to stay out of the arms of other women himself, he saw his wife's affair with Burton as a blessing and a way out of the marriage. He talked amicably with Burton on the phone and the two men discussed the 'transfer' of Suzy. Burton agreed to pay Hunt's divorce settlement to Suzy, a hefty $1 million.
-Daily Mail Online
Did the real Niki Lauda quit the 1976 Japanese Grand Prix because of the rain?
Yes, but it wasn't just because he felt that the rain-soaked track was unsafe. To complicate things, Lauda's tear ducts had been damaged by fire during the horrific crash at the German Grand Prix earlier in the season. His healing injuries left him unable to blink and his eyes were watering excessively during the race. This complication from his injury, combined with the rain, caused him to retire himself from the Japanese Grand Prix after two laps, as he felt is was unsafe to continue. Lauda's decision to withdraw from the race hurt his previously amicable relationship with Ferrari.

It should be noted that James Hunt also argued that the race should not take place due to the pouring rain and unsafe conditions. McLaren was irritated with James's position, telling him that if he doesn't race then they won't get the world championship.

Despite the rain continuing to fall, the race organizers decided to start the race after a delay of nearly two hours. They chose to do so because they did not want to lose money from the television contracts if the race was cancelled.

"It was not a difficult decision for me," says Lauda, "because the circuit was flooded. There was so much rain that nobody could drive. For two hours nothing is happening and then the race director came...and said, 'Now we gotta start the race because it's television time and at six it's dark.' And then I said look, the circuit is flooded like before. Why the hell do you want the same result? ... This for me at the time was completely stupid. I think four other guys with me did not race because of the stupid decision. James did and won the championship, no problem." Lauda says that he would still make the same decision today, despite Hunt winning the world championship as a result of that race. -Carjam TV

"When you are a normal racing driver not affected by an accident, you have reserves," says Lauda. "So that means your level of risk taking is higher than like in my case when you've just come out of death, and have had everything happening to you. And then a couple of races later you have to face this more difficult situation with the water and rain and risk going up, and at that time I was not prepared to take this extra risk because of the accident."
Was Niki Lauda disappointed that James Hunt won the 1976 championship as a result of the race in Japan?
No. "I said at the same time at the time there, if anybody should get the championship, then I'm happy it's James," says Lauda, "because I liked him, and we were not buddies but we were at least sympatico. We took care of each other from the heart in a very nice way, which in these days the heart was never shown in Formula One."

"I feel really sorry for Niki," the real James Hunt said shortly after the championship race in Japan. "I feel sorry for everybody that the race had to be run in such ridiculous circumstances, and quite honestly, you know I wanted to win the championship, and I felt that I deserved to win the championship. I also felt that Niki deserved to win the championship, and I just wish we could have shared it."
Who was the better racer, James Hunt or Niki Lauda?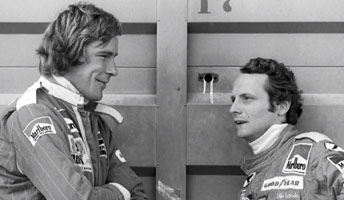 Rivals on the track, James Hunt and Niki Lauda were friends long before the accident, meeting prior to Formula One when they both raced Formula Three.

Prior to Niki Lauda's crash, he had more than double Hunt's points. Having to miss two races after being severely burned and nearly dying, Lauda still finished the season only one point behind Hunt. Lauda also took himself out of the final race of the 1976 season, fearing his safety on the rain-soaked track in Japan.

Though James Hunt may have had the glamour and attracted more of a rock star type of following, it is hard to dispute that Lauda was the better driver. Niki Lauda was the Formula One World Champion in 1975, 1977 and 1984, the first two with Ferrari and the last with McLaren. Hunts only championship season was 1976. It can also be argued that if Lauda's concerns over the safety of the track at

Nürburgring had been acted upon, his near fatal crash would never have happened and he would have most likely won the 1976 season with relative ease. The two races he missed while injured allowed Hunt to catch up in points.
How did James Hunt die?
During our research into the Rush true story, we learned that James Hunt died of a heart attack in 1993 at the age of 45, at his home in Wimbledon, London, England. He passed away only hours after proposing via telephone to his girlfriend Helen Dyson, who was 18 years his junior. Hunt met Dyson in 1989 at a restaurant where she was working as a waitress. The relationship was just one factor that had brought happiness to Hunt's life, in addition to his two sons and cleaner living.

James Hunt had retired from racing in the middle of the 1979 season. He spent years working for the BBC as an often brutally honest Formula One commentator, especially when it came to the drivers he didn't like. He married his second wife, Sarah Lomax, in 1982 and they had two sons before splitting in 1988. By that time, he had lost a significant portion of his money in bad business deals.
What did Niki Lauda do after retiring from racing?
Following his first retirement in 1979, Niki Lauda focused on running a charter airline that he had established in April of that year called Lauda Air, which flew from Austria to holiday destinations in Europe and North Africa. In order to secure money for the business, he came out of retirement in 1982. After winning his third world championship in 1984, Lauda retired for good at the end of the 1985 season, which found him having to take himself out of eleven of the fourteen races he started.

In 1991, a Lauda Air Boeing 767 crashed in Thailand, killing all 223 people on board. During that same year, he and his wife Marlene divorced. He sold his Lauda Air shares to majority partner Austrian Airlines in 1999, and in 2003 he started a new airline, Niki, which eventually became a subsidiary of Air Berlin. Lauda has his commercial pilot's license and has even been known to act as captain on his airline's flights from time to time.

Niki Lauda also managed the Jaguar Formula One racing team from 2001 to 2002 and has been a commentator on Grand Prix for Austrian and German television. In addition, he has written five books and has acted as a consultant to the Ferrari team. In 2008 he married a former flight attendant named Birgit, who is 30 years his junior and had worked for his airline. She had donated a kidney to Lauda after one that he had received from his brother years earlier had failed. Lauda has two children with Birgit, in addition to two sons from his marriage to Marlene and one extra-marital son. As of 2013, Lauda has taken on the role of chairman of the Mercedes Formula One team.
Niki Lauda, who is still involved in Formula One, fully supports the

Rush

movie.

Was the real Niki Lauda involved with the Rush movie?
Yes. Lauda gave constant input to screenwriter Peter Morgan as he prepared the script, sharing memories and advising Morgan with regard to the technicalities of the sport. The real Niki Lauda also spent a lot of time with actor Daniel Brühl who portrays him in the Rush movie, helping Brühl to perfect his accent and mannerisms.

Brühl humorously recalls speaking with Lauda prior to meeting him for the first time in Vienna. Lauda told him to just bring hand luggage in case they didn't like each other. That way he could quickly fly back to Berlin. "I spent a lot of time with him, which he asked me to do," says Lauda. "I really liked the guy from the first day on. He was a down to earth, real talented guy."
Where did the filmmakers get the racecars for the movie?
Director Ron Howard and the filmmakers were able to get one of Niki Lauda's actual Ferrari Formula One cars from the 1976 season. They also used a real James Hunt McLaren racecar. All of the Formula One cars used in the movie belonged to private collectors.
James Hunt and Niki Lauda Interviews and Racing Footage
Watch the real Niki Lauda crash video below and view James Hunt interviews to see how effectively Chris Hemsworth captured his personality.
WATCH

Niki Lauda Crash Footage and Reports From 1976
Watch footage of the actual Niki Lauda crash that happened on August 1, 1976 at Nürburgring in Germany. Plus, view footage of Niki immediately after the crash, badly burned and being tended to by his fellow drivers. Clearly conscious in the video, he would eventually slip into a coma from his injuries.

WATCH

Niki Lauda and Fellow Drivers Talk About the Crash
Footage of the crash is shown as Niki Lauda and other racers who were there that day talk about the crash. This includes driver John Watson who raced for Penske Ford. Watson talks about holding Lauda's head in his lap and being asked by Lauda if his face was badly burned. To keep him calm, Watson told him not to worry about it, that it was okay.

WATCH

Recreating Niki Lauda's Crash at Nürburgring for Rush
Director Ron Howard and the filmmakers return to the old track at Nürburgring to recreate Niki Lauda's famous crash at the actual spot where the original crash took place. Niki says that his Ferrari was the perfect car that season, and that he had won most of the races prior to the crash that left him fighting for his life.

WATCH

Rush Movie Featurette - Meeting Niki Lauda
Actor Daniel Brühl describes a rather humorous conversation he had with the real Niki Lauda prior to meeting him in Vienna. Lauda then offers his opinion of his onscreen counterpart. Also, director Ron Howard and screenwriter Peter Morgan reflect on Lauda and the 1976 crash.

WATCH

James Hunt Interview After 1976 British Grand Prix
Formula One racer James Hunt is interviewed on July 18, 1976 after winning the British Grand Prix. Two months after the race, Ferrari protested the win because Hunt had taken a shortcut to the pit via an access road and was not on the track when the red flag was raised. Hunt was disqualified and Niki Lauda was given the win.

WATCH

James Hunt Interview 1976
The real James Hunt is interviewed by Bill Wigmore on Britain's Today program in 1976, the year he was the Formula One World Champion. Hunt talks about how he got into racing, his life as a Formula One racer, and how he handles the fear of dying on the track.

WATCH

James Hunt Big Balls Interview
Interviewed by former British Formula One driver Stirling Moss, the real James Hunt tells Moss that having "big balls" is what allows him to still drive very fast after new regulations had forced changes with regard to the air boxes and wings. Stirling Moss doesn't quite believe his answer, even though Hunt is not entirely kidding.

WATCH

Rush Movie Trailer
Watch the third trailer for the Ron Howard Formula One movie Rush starring Chris Hemsworth and Daniel Brühl. The movie is based on the real-life rivalry between British driver James Hunt (Hemsworth) and Austrian champion Niki Lauda (Brühl).

Link-to-Learn More: