Catch Me If You Can (2002)
Starring Leonardo DiCaprio, Tom Hanks, Christopher Walken
based on the novel by Frank Abagnale Jr.
REEL

FACE:

REAL

FACE:

Leonardo DiCaprio
Born: November 11, 1974
Birthplace:
Hollywood, California, USA

Frank William Abagnale, Jr.
Born: April 27, 1948
Birthplace: Bronx, New York, USA

Tom Hanks
Born: July 9, 1956
Birthplace:
Concord, California, USA

Joseph Shea
Born: September 20, 1919
Birthplace: Somerville, Massachusetts, USA
Death: August 4, 2005, Marietta, Georgia, USA

Christopher Walken
Born: March 31, 1943
Birthplace:
Queens, New York City, New York, USA

Frank Abagnale, Sr.
Born: October 13, 1914
Birthplace: New York, USA
Death: March 11, 1972
Things that happen in real life are sometimes a hundred times more fascinating than anything a person could make up off the top of his head.
- Leonardo DiCaprio
Questioning the Story:
Was the FBI Agent played by Tom Hanks a real person?
The real Carl Hanratty is a composite of a number of FBI agents who worked to catch Abagnale, most notably FBI Agent Joseph Shea. Special Agent Shea was the head of the FBI investigative team chasing after Frank and had spent several years looking for him. Agent Joe Shea also acted as his main contact at the Bureau, similar to Hanratty (Tom Hanks) in the movie. For some time, Shea had believed that Frank was an experienced criminal in his mid-thirties, not realizing that his suspect was only a teenager.
Did Frank really escape a VC10 jetliner by removing the toilet and climbing down beneath it, eventually escaping through a hatch onto the tarmac?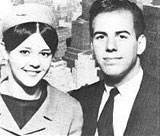 A stewardess poses with a 16-year-old Frank in NYC.

The event is in Frank's 1981 memoir, but airline experts say it is impossible. "The entire system is sealed," says Skip Jones of the Aerospace Industries Association. "No matter what happens in there, you can't get into the rest of the airplane." Payload systems engineer Alan Anderson explains that the toilets are mounted on top of tanks that weigh over 100 pounds, and even if he manage to undo the toilet, he would have to crawl through a pipe four inches in diameter. "A person would have to be pretty small, and it would be messy," says Anderson.
Why did he do it?
Only Frank Abagnale, Jr. can answer this question, and in an interview he said the following, "It begins with my parents' divorce and its dramatic effect on me. I ran away and suddenly found myself a teenager alone in the world. I had to grow up very quickly and become very creative in order to survive. But what started out as survival became more and more of a game. I was an opportunist, so when I saw an opening I asked myself, "Could I get away with that?" Then there was the satisfaction of actually getting away with it. The more I got away with, the more of a game it became "a game I knew I would ultimately lose, but a game I was going to have fun playing until I did."


Does the Real Frank Abagnale, Jr. have a cameo in the movie?
Yes. "I really didn't want to, but they insisted I do so," says Frank. "They cut all my hair off, and they put me in a cap and a big coat and put me in a night scene playing a French policeman who goes up to arrest Leo in one of the final scenes of the movie."


Leonardo DiCaprio and Frank Abagnale, Jr. (on the set):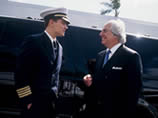 Click Image to Enlarge
"To look at him, you wouldn't think he could steal a postage stamp. But he has an almost unconscious way of engaging you with his eyes, with his energy and with his intelligence."
- Leonardo DiCaprio
Frank Abagnale, Jr. Interviews and Video:
Don't miss the Frank Abagnale, Jr. videos below, including an extensive BBC interview with Frank during which he discusses his real life experiences and his somewhat hard-to-spot cameo in the film. Also, check out the Catch Me If You Can movie trailer and Frank's appearance on the game show To Tell the Truth.
WATCH

Frank Abagnale BBC HARDTalk Interview
BBC HARDTalk interviews former scam artist Frank Abagnale, Jr., who discusses his life as a con man, including posing as a pilot and a doctor. He also discusses the movie, his capture, his five years in Federal prison and meeting his wife while working undercover with the FBI. His son also became an FBI agent.

WATCH

Catch Me If You Can Trailer
Watch the movie trailer for the 2002 film Catch Me If You Can starring Tom Hanks and Leonardo DiCaprio. Directed by Steven Spielberg.

Link-to-Learn More: