My initial anxiety turned to scorn for the thoroughly bad screenplay and direction. I became bored and impatient for the end of the film. ... I felt that I wasn't watching an interpretation of the real events from the time, but rather a stiff and poorly depicted mashup of trivia from events described in my book, sprinkled over Ridley's racially driven fictional theme. ... A short-sighted and somewhat offensive portrayal of Jimi and those around him at the time.

-Former Girlfriend Kathy Etchingham, March 7, 2014, IMDB

Questioning the Story:

Why are there no songs written by Jimi Hendrix in the movie?
The Jimi: All Is by My Side true story reveals that writer and director John Ridley (12 Years a Slave) was unable to get the rights to Hendrix-written songs from the Jimi Hendrix estate (Experience Hendrix LLC). At the beginning of the movie, this isn't a huge deal because early in his career Hendrix was mostly performing covers. However, the absence of Hendrix's staple songs at the Monterey Pop Festival is more noticeable (the movie ends with Hendrix on his way to the festival). "Foxy Lady", "The Wind Cries Mary", "Can You See Me" and "Purple Haze" were all performed by Hendrix at the real festival and are absent from the movie. -NPR
When do the events in the movie take place?
The All Is by My Side movie covers Jimi Hendrix's life from 1966-67, beginning with him playing as a backup guitarist in New York's Cheetah Club to his rise to stardom via London's music scene. The film culminates with Hendrix at the airport en route to his literally incendiary performance at the Monterey Pop Festival in California in mid-June of 1967.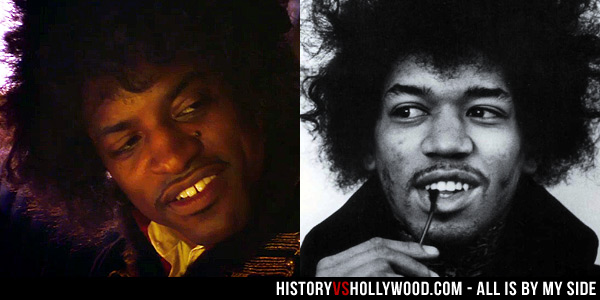 André Benjamin (left) of the band OutKast portrays Jimi Hendrix (right) in the
All Is by My Side
movie.
Did Jimi Hendrix really upstage Eric Clapton?
Yes. Like in the
Jimi: All Is by My Side
movie, the true story confirms that Jimi requested to jam with Eric Clapton at a Cream concert. Eric and the band granted the request. Jimi plugged in his guitar and performed a phenomenal version of "Killing Floor". Clapton had always loved the song but thought it was too difficult to play. As seen in the movie, Clapton's hands dropped from his guitar and he walked off stage.
Watch video of Jimi Hendrix upstaging Eric Clapton
.
Is actor André Benjamin the one singing in the movie?
Yes. André Benjamin, whose stage name is André 3000, is a co-founding member of the hip-hop group OutKast. He does his own singing in the film. -NPR
Is André Benjamin a skilled guitar player?
No, and it didn't help much that Benjamin had to learn to play guitar left-handed for the movie. "One of the hardest parts [was] I'm a right-hand guitar player. I'm a horrible right-hand guitar player," says Benjamin. "I wouldn't even call myself a guitar player; I just pick it up and fiddle with it every now and then. When it came time to do the left-hand thing ... it's almost like walking backwards and making walking backwards look normal." It should be noted that André Benjamin is only mimicking Hendrix in the movie. In fact, we don't hear the real Jimi Hendrix. Instead, guitarist Waddy Wachtel provides Jimi's guitar licks. -NPR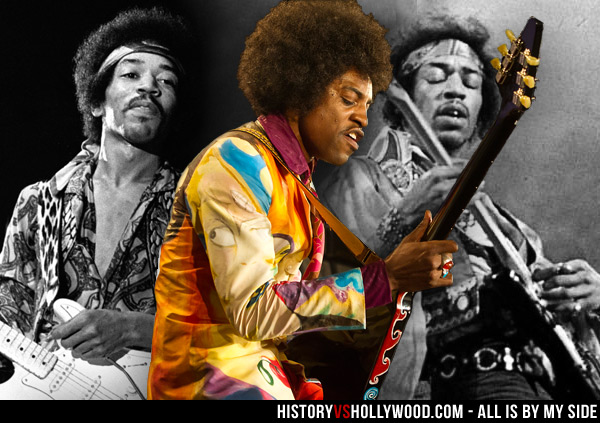 Not a skilled guitar player, it was a challenge for André Benjamin (center) to get the hand placement right in order to mimic Jimi Hendrix (background).
Did Jimi Hendrix really beat up his girlfriend Kathy Etchingham?
No. The real Kathy Etchingham, who dated Hendrix between 1966 and 1969, says that the scene that depicts Hendrix (André Benjamin) beating up her character with a telephone is "completely made up." In fact, Ms. Etchingham was so disturbed by the movie depicting their relationship as an abusive one, she has considered taking legal action against the filmmakers. "If I don't, it'll just get repeated and repeated and it'll become the truth."

Kathy, whose full name is Kathleen Mary Etchingham, says that screenwriter and director John Ridley never consulted her for the movie. She told the Daily Mail Online that she had even contacted Ridley and offered to help at no cost, but never heard back. Kathy further addressed the Jimi: All Is by My Side true story by saying that her relationship with Jimi Hendrix wasn't the only thing that the movie got wrong.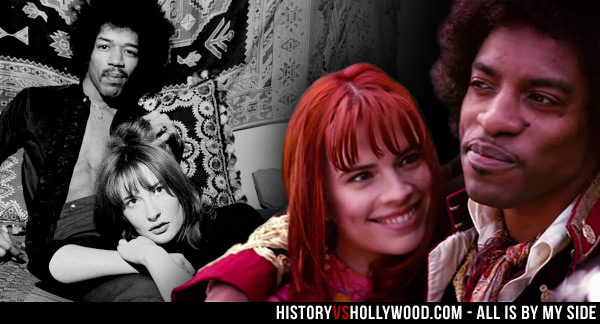 The real Jimi Hendrix and Kathy Etchingham relax in the late 1960s (left). André Benjamin and Hayley Atwell portray the pair in the movie (right).
"Firstly, I am not from Manchester. I am actually Irish … my father's family were prosperous Irish landowners... They could not be described as working-class," Etchingham said, addressing the characteristics of her onscreen counterpart.
"I am not prone to swear all the time. I was not a 'wild child' like other 'rock chicks.' My friends used to tell me how sensible I was."
Kathy Mary Etchingham was the inspiration for a number of Hendrix's songs, most notably "The Wind Cries Mary".
Did Jimi Hendrix really get stopped by the police when he was wearing his Royal Army Veterinary Corps jacket?
Yes. Jimi believed the jacket to be from 1898. He had purchased it from the London thrift store "I Was Lord Kitchener's Valet" located at 293 Portobello Road in Notting Hill. It was a popular shopping spot for other '60s rock stars as well, including John Lennon, Mick Jagger and Eric Clapton. Like in the movie, the real Jimi Hendrix and Kathy Etchingham were stopped by five or six British police officers. One of the officers told Jimi that he shouldn't be wearing the jacket because "Men fought and died in that uniform." Jimi informed the officer that it was a Royal Army Veterinary Corps (RAVC) jacket. -Newsweek.com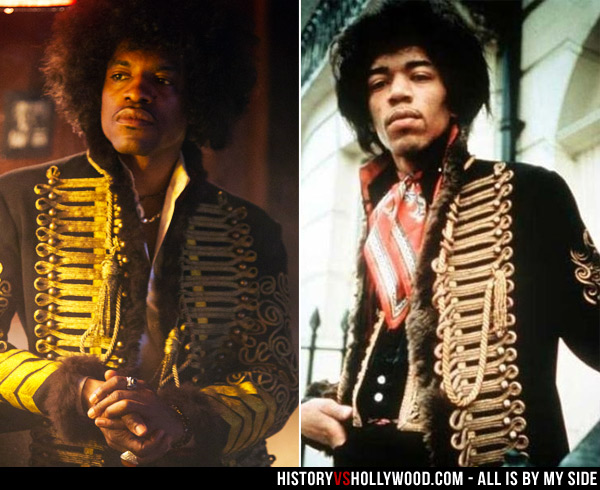 The Royal Hussar jacket (pictured) is the most famous of the military coats worn by the real Jimi Hendrix (right).
Did Linda Keith really date Rolling Stones guitarist Keith Richards?
Yes. British Vogue model Linda Keith began dating Rolling Stones guitarist Keith Richards in 1963. The pair split up in 1966 when Linda was busy launching Jimi Hendrix's career. After learning that Jimi had hawked his own guitar, Linda gave him Richards' white Fender Stratocaster, the instrument that would forever symbolize Jimi's legendary technique.

Keith Richards has described Linda as "the one that first broke my heart." He co-wrote the song "Ruby Tuesday" about her. Ironically, Richards at one point was so concerned with Linda's drug use and the bad crowd she was hanging out with in New York, he contacted her father who made her go back to England. This was prior to Richard's own heavy involvement with drugs. -TheGuardian.com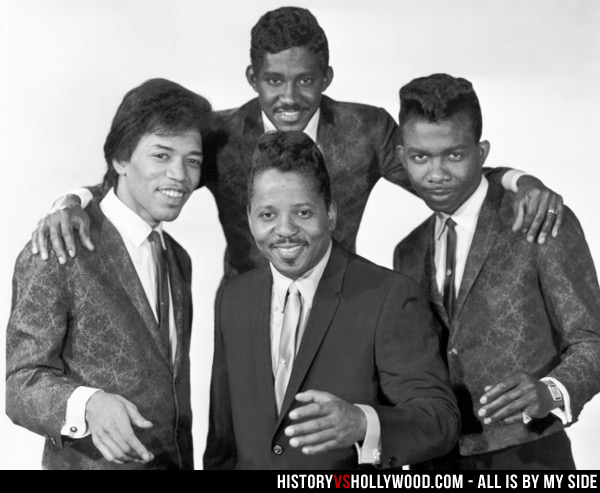 Jimi Hendrix (left) as a member of Curtis Knight and the Squires in 1965. Jimi was playing with the Squires when Linda Keith discovered him.
Was Linda Keith really responsible for Jimmy's rise to stardom?
Yes. In late May of 1966, Linda Keith walked into The Cheetah Club in New York with her model friends. Curtis Knight and the Squires were playing on stage and Jimi Hendrix was on guitar. She didn't care much for the band but she was blown away by Jimi. At the end of their set, she invited Jimi over to her table. Like in the All Is by My Side movie, they went back to her apartment where they discussed Jimi going solo and Linda introduced Jimi to LSD. By the end of the evening, he had become her protégé.

After a less than impressive performance in front of her boyfriend Keith Richard's band, The Rolling Stones, she convinced Animals bass player Chas Chandler to check out Hendrix. Like in the All Is by My Side movie, Chandler witnessed Jimi play on August 2, 1966 at the Cafe Wah? in Manhattan. Of the performance, Chandler would later comment, "He was the best guitar player I had ever heard." This defining moment opened the doorway for Jimi's rise to stardom.
Did Jimi Hendrix set his guitar on fire at the Monterey Pop Festival?
Yes. This is one of the more well-known incidents associated with Jimi Hendrix. In fact, Jimi Hendrix's June 18, 1967 guitar burning at the Monterey Pop Festival left such a memorable impact that it was immortalized by McFarlane Toys in 2004 (pictured below, right). The Jimi Hendrix figure is available on eBay.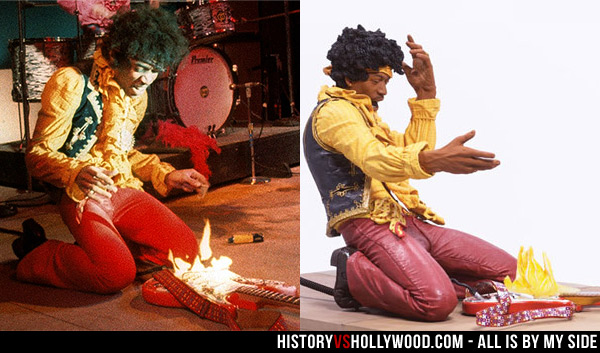 Jimi Hendrix (left) burns his guitar at the Monterey Pop Festival on June 18, 1967. McFarlane Toys commemorates the moment with a 2004 Jimi Hendrix action figure (right).
Is Ruth Negga's character Ida based on a real person?
Though a few critics and columnists have conjectured that the All Is by My Side character Ida, portrayed by Ruth Negga, could possibly represent either Betty Mabry (aka Betty Davis) or groupie Devon Wilson, we have found nothing definitive to confirm this. In a press packet for the film, actress Ruth Negga does mention director Ridley gathering information about Devon Wilson, which helped her to prepare for the role. Yet, for the most part, Ida seems to be a largely fictional character made up by screenwriter/director John Ridley. In the movie, Hendrix ditches girlfriend Kathy Etchingham for Ida.
How did Jimi Hendrix die?
Hendrix died in his sleep on September 18, 1970 at the age of 27 from asphyxiation due to a drug overdose.
Jimi Hendrix Interviews and Performances
Further examine the Jimi: All Is by My Side true story by watching video of the real Jimi Hendrix burning his guitar on stage (at the Monterey Pop Festival), upstaging Eric Clapton, and discussing his feelings about the state of music in the late 1960s.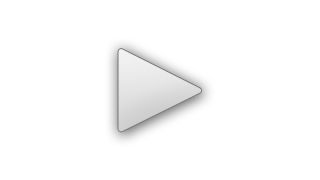 Jimi Hendrix Upstages Eric Clapton
Watch a short clip from the first episode "Birth of Rock" from the BBC documentary Seven Ages of Rock. It features Jimi Hendrix upstaging Eric Clapton. Jimi comes on stage to jam with Eric Clapton's wildly popular band Cream and performs a mind-blowing version of "Killing Floor". Clapton doesn't even attempt to join in and instead leaves the stage.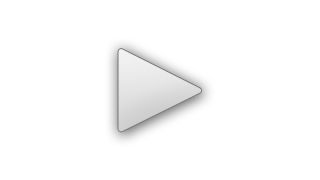 Jimi Hendrix Guitar Burning
Jimi Hendrix lights his guitar on fire at the 1967 Monterey Pop Festival. The famous performance features Hendrix burning his guitar using lighter fluid and then tossing the can of lighter fluid into the fire (not recommended). He picks up his guitar and at first tries to smash the can, then he lets loose swinging his guitar into the stage until it breaks in half.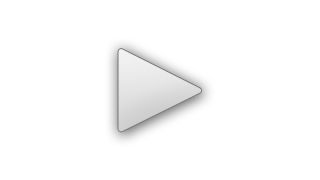 Jimi Hendrix Performs The Star-Spangled Banner - Woodstock (1969)
Jimi Hendrix's unorthodox Woodstock performance of America's National Anthem, "The Star-Spangled Banner", ignited controversy in August of 1969. Hendrix was originally scheduled to close out Woodstock on Sunday night, but he didn't end up taking the stage until Monday morning, after most of the crowd had left. Still, his performance lived on through recordings and was heard and seen by both his fans and his detractors. It is considered by many to be the defining performance of Woodstock.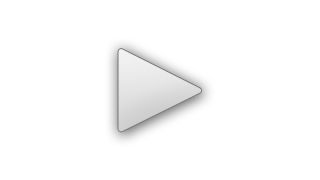 Jimi Hendrix Sgt. Pepper's "Watch Out for Your Ears" Performance
Just two days after The Beatles released "Sgt. Pepper's Lonely Hearts Club Band" in 1967, Jimi Hendrix took the stage at the Saville Theater in London and performed a guitar-shredding interpretation of the song. Prior to starting to play, he warned the audience (which included Beatles band member Paul McCartney), "Watch out for your ears!"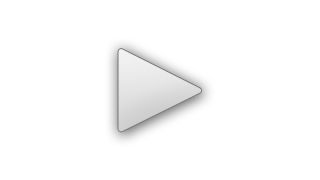 Jimi Hendrix Interview on The Dick Cavett Show (1969)
Watch the Jimi Hendrix interview from The Dick Cavett Show in 1969. Jimi talks about performing at Woodstock, the lack of violence at the festival, and his performance of the National Anthem. He humbly responds to being called "one of the best guitar players in the world," a moniker that lived on and has become synonymous with Hendrix. He says that he doesn't read music. He also states that he doesn't ever see himself getting married.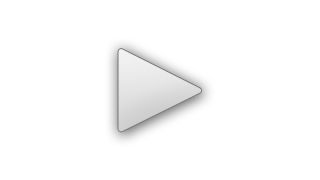 The Jimi Hendrix Experience Interview (1968)
Terry David Mulligan interviews The Jimi Hendrix Experience in Vancouver on September 7, 1968. Jimi talks about the state of music in London following The Beatles, saying that things are "all screwed up" because people are "stuck on ballads and pop." The band also discusses their upcoming album Electric Ladyland, and Jimi talks about how much better music is then compared to the days of Chuck Berry and Fats Domino. The problem, he says, is that people don't realize it.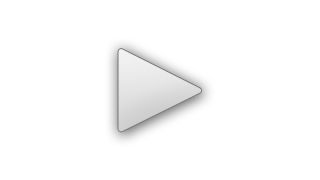 Jimi: All Is by My Side Trailer
OutKast's André Benjamin stars as Jimi Hendrix in this biopic from writer-director John Ridley (12 Years a Slave). The film spans a year in Hendrix's life from 1966-67, during which time he went from being an unknown backup guitarist playing New York's Cheetah Club to making his mark on London's music scene, culminating with him en route to his Monterey Pop Festival triumph.


Link-to-Learn More: